This year St. John's University held their 5th Annual Light It Up Blue Extravaganza to shine a light on our community for Autism Awareness Month. During the month of April they are holding several Light It Up Blue events to spread awareness for the over 70 million individuals out there worldwide who currently have autism.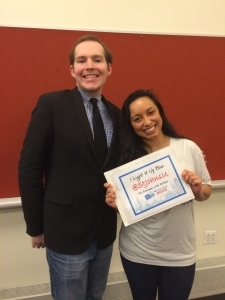 Thanks to their Queens Campus I was invited to give the keynote address to discuss my life on the autism spectrum and how students can go about lighting it up blue in their community. During the presentation we discussed some of the early results of Light It Up Blue which so far have included World Autism Awareness Day and Light It Up Blue trending on Facebook and Twitter along with over 18,000 buildings worldwide that have gone blue!
I'd like to thank St. John's for having me for this amazing event and all the students who made this possible. If you want to learn more about how you can take part in their Light It Up Blue Extravaganza you can go their website here.
Interested in learning how you can spread autism awareness on your college campus? Check out our college autism awareness initiative called Autism Speaks U at www.autismspeaks.org/u!