This guest post is by Erican Santiago, a young man on the autism spectrum. Erican will be attending Michigan Tech University with a Major in Biomedical Engineering. He is applying for our Spring 2017 Making a Difference Autism Scholarship via the nonprofit KFM Making a Difference. You can read more about the organization and how to apply for our scholarship here.
Funny how it can take someone or something outside of your comfort zone to make you see things as they really are. I have experienced this regularly throughout my life.
My name is Erican Santiago and I have autism. Growing up, I knew I was different from other kids but didn't know why until I listened to a friend's mom give a speech in class about his autism. That was in 6th grade. Her speech opened my eyes and mind to my own disability in a way that I had refused to accept before that day.   My mom had been trying to talk to me about my autism for years and I always changed the subject whenever she tried to discuss it with me. I went home that day and asked her if I was autistic. That led to a conversation that was long overdue. For 3 months, I struggled with my new realty. My grades dropped and I withdrew into myself. I needed that time to process the situation. I finally realized that nothing about me had changed; this is something that was a part of me and found that instead of being upset with my disability, I was proud of who I was and I was proud to be autistic.
I was identified as pre-primary impaired by the time I was two years old. That diagnosis quickly changed to "high-functioning" autism spectrum disorder by the time I entered elementary school. I spent 2 years attending a special needs preschool with kids that were primarily down syndrome. I didn't fit in with that group but the school didn't know where else to put me. As I moved on to kindergarten, I was placed in the regular classroom with special accommodations to meet my needs. I had paraprofessionals, speech and occupational therapists, and a social worker working with me. Their special needs program was amazing but I didn't see it as anything special at the time. It was just a part of my regular day at school. Teachers were soft on me and worked around my needs. I was a stickler for routine and would have meltdowns if those routines were broken. I was loud in class and needed a headset to remind me to speak softly. I couldn't handle loud noises like fire alarms or tornado sirens and the noise in the lunch room made my brain feel like it was all scrambled up. I had a fixation on weather and natural disasters that could disrupt even my own strict routine so the secretary at school made a special effort to keep me informed during storms. It took time for the school to learn how to work with me and I think, like any kid, I probably pushed it as far as I could. I was autistic, not stupid.
I hadn't had a meltdown at home since I was 5 years old. What was the difference? My parents were firm with me. They pushed me as child with autism. They raised their expectations and made me a stronger person for it. They also knew my limitations without focusing on them. This helped erase those limitations and encouraged me to strive to work harder. They didn't allow me to get away with the things I was doing in school. In 4th grade, I finally had a teacher that treated me like my parents did. She wouldn't let me get away with things. This is the first time I started to make significant progress with my disability in school. My 5th grade teacher was just as firm with me. Neither of these teachers wanted to be the "mean" teacher but they knew how to handle the situation better than most and I owe them a lot for pushing me like my parents did.
In 4th grade, my elementary school decided to start a "peer-to-peer" program for special needs children. I was one of two kids with autism that were asked to help pilot this program. My mom came in to share details of my disability with kids that wanted to participate as helpers. These kids would take turns throughout the week spending time with me. They would report their observations to the counselors who were amazed at the different perspective the kids brought to the table. The program was such a great success that it was expanded to include our entire school district when I was in 6th grade. By 7th grade, I was able to become a peer helper myself and kept with the program through 9th grade. In 8th grade, my mother and I were interviewed to share our peer-to-peer experience with other schools at both the county and state level. I may not have known what to label myself during the early years of this program but, like the speech my friend's mom gave in 6th grade, it helped me.
Today, my achievements reflect who I am as a person with autism. I will always struggle with it but have found ways to manage the difficulties. For me personally, the benefits of this disability far outweigh the negatives. I excel academically, have an insane memory, and my sensitivities to sound have given me the gift of music. I believe I stand apart from the rest because the challenges I faced growing up have given me a strength of character and a unique perspective on life and how to approach it. I do not use autism as crutch or an excuse. I have taken the strong desire for routine and refocused it toward pursuing my goals as a Biomedical Engineer. Having experienced life with a disability will allow me to approach the complexities of this field as an insider with an understanding of not only the physical limitations but the emotional challenges as well. It gives me a strong desire to help others the way I have been helped. If I can inspire even one person, regardless of disability, I will have achieved something special in this life.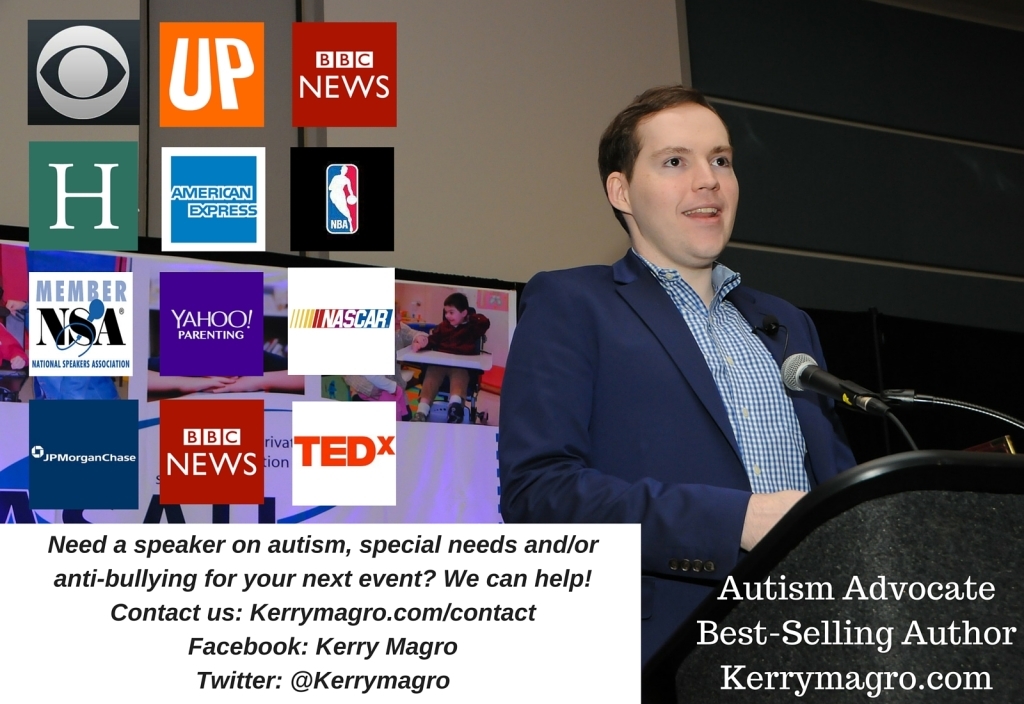 Kerry Magro, an international motivational speaker and best-selling author started the nonprofit KFM Making a Difference in 2011 to help students with autism receive scholarship aid to pursue a post-secondary education. Help us continue to help students with autism go to college by making a tax-deductible donation to our nonprofit here. Also, consider having Kerry who travels around the country speaking about his journey on the autism spectrum at your next event by contacting him here.