This guest post is by Trey Alvelo, a young teen on the autism spectrum who is applying for our Spring 2017 Making a Difference Autism Scholarship via the nonprofit KFM Making a Difference. You can read more about the organization and how to apply for our scholarship here.
I have learned to work through, around, over and under different learning and social challenges. I do not let others label me, limit me or stop me because of my glitches. My parents always called my autistic quirks "glitches." I still sometimes suffer from the struggles I have with social situations and I would not be here today if it was not for my parent's help.
I use to be a complete loner and would get angry more often than others because of my Autism glitches and social awkwardness. I have learned how to channel my frustrations in healthy ways and work through uncomfortable social situations rather than ignore the signs and live as an angry person.
When I was young my parents took me to a specialist and I was diagnosed with high functioning autism. I was a neat, organized kid who preferred to be more of a loner than hang out with other people my age. My parents cared about making sure I could get the help I needed so they jumped into being involved with the Autism Society and with TEACCH. I learned from an early age that I had different ways of learning, social challenges, and educational obstacles that I would have to work hard to adapt into how I functioned in my world. Some of my early teachers doubted my ability to learn and fit in and they told my parents that, "I would never be a productive member of society."
My parents gave me every tool to learn and grow using my challenges and differences as positive enhancements to my learning capability. They also taught me that it was important to work through uncomfortable situations, not to avoid them. I am now a serious student that follows the rules and do what is expected of me. I was able to grow into a person that can be a productive member of society thanks to the hard work my parents and my willingness to embrace who I am.
Even though I have come a long way to dealing with HFA, I don't let other people limit me, define me or label who I am. Like those early teachers my parents did not let their words define who I would become and worked hard to give me the tools to challenge myself. Last year, I challenged myself and joined the yearbook team. I was in a position where I needed to approach, talk to and photograph my peers. I discovered a magical formula for socialization; putting a camera around my neck. That camera was my doorway to some of the best peer conversations that I have ever experienced. The focus was off of me and put onto what I could do with my camera which was take great pictures. I have I have also been successful in AP classes in my junior year which shows how far I have come.
I believe that I am a voice for those with high-functioning autism. My story can help others who are just beginning their journey on the spectrum. My story can encourage others who are stumbling a little on their journey. I have worked hard to get where I am today and want to continue to work hard in the future. My name is Trey Alvelo and I am a high functioning autistic guy who has the dream of going to college, being an example for others and changing the world.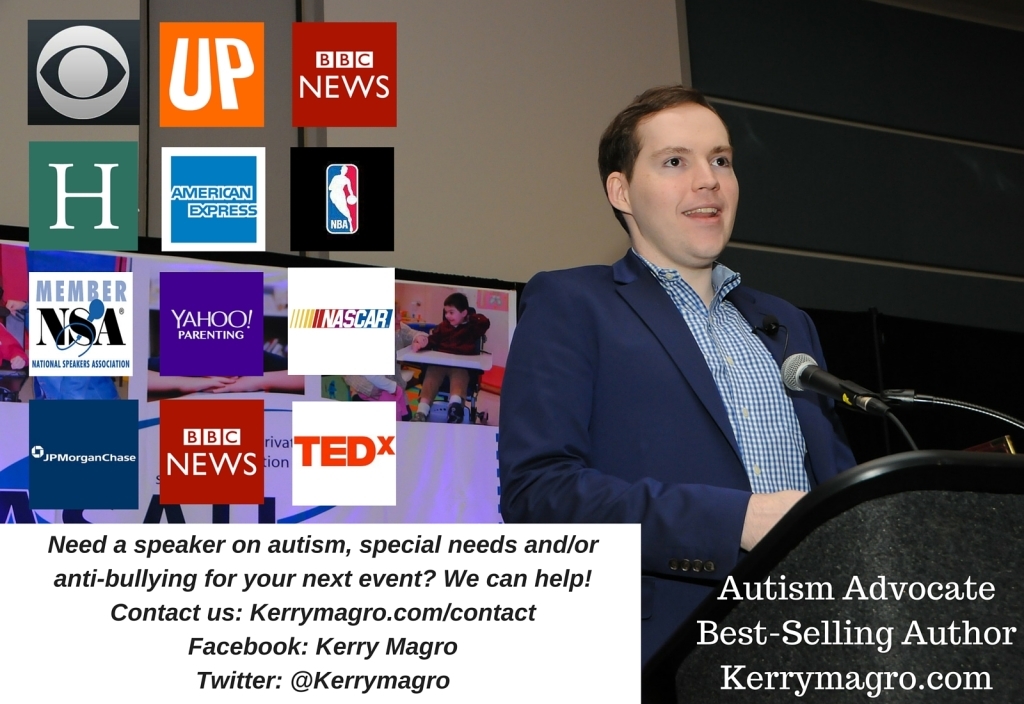 Kerry Magro, an international motivational speaker and best-selling author started the nonprofit KFM Making a Difference in 2011 to help students with autism receive scholarship aid to pursue a post-secondary education. Help us continue to help students with autism go to college by making a tax-deductible donation to our nonprofit here. Also, consider having Kerry who travels around the country speaking about his journey on the autism spectrum at your next event by contacting him here.