People were unsure he'd even be able to ride a bike let alone get a driver's license. Now Armani Williams is doing great things on the NASCAR stage!
Armani Williams is someone who's passions have turned into a career today. Something I share when I give talks as a
professional speaker
on the autism spectrum is a quote from Temple Grandin where she says that 'interests and talents can turn into careers.' I believe that when we can find our kids passions at a very early age it can help them to be motivated as they get older to strive to achieve greatness. This video below discusses a little bit of my journey from nonverbal autism to professional speaker.
When I think of Armani I believe this is something he has truly embraced.
Armani was diagnosed with autism at the age of 2 and now currently races in the NASCAR K&N Pro Series. He used to be nonverbal just like myself. Based in Detroit, Armani in the hopes of advocating for others started the Armani Williams Race 4 Autism Foundation. As someone who also has a foundation to
provide scholarships
for students with autism to go to college I think this is fantastic of him to do! Based
on his website
it said he started go-kart racing when he was 8 and has kept up his passion for racing ever since.
You can check out more of Armani's story in the video below…
Way to go Armani! Keep doing what you're doing!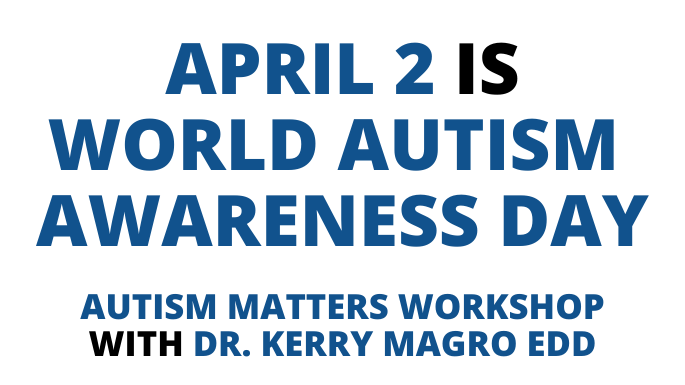 Excited to announce Kerry will be hosting a free workshop on World Autism Awareness Day on Thursday at 1PM EST with helpful tips for your loved ones who are on the autism spectrum from adolescence to adulthood. He was nonverbal till 2.5 and diagnosed with autism at 4. Today he is one of the only professionally certified speakers with autism in the country. Parents, educators, self-advocates & others from our community are welcomed to join. Register today to attend here.
Follow his journey on Facebook, my Facebook Fan Page, & Instagram!
Kerry Magro, a professional speaker and best-selling author who is also on the autism spectrum started the nonprofit KFM Making a Difference in 2011 to help students with autism receive scholarship aid to pursue a post-secondary education. 
Have Kerry, one of the only professionally accredited speakers on the spectrum in the country, speak at your next event by sending him an inquiry here. If you have a referral for someone who many want him to speak please reach out as well! Kerry speaks with schools, businesses, government agencies, colleges, nonprofit organizations, parent groups and other special events on topics ranging from employment, how to succeed in college with a learning disability, internal communication, living with autism, bullying prevention, social media best practices, innovation, presentation best practices and much more!