This guest Q&A is with Anthony Ardolino, the proud father of Anthony Luca, a handsome 9-year-old on the autism spectrum. Despite being nonverbal, Anthony continues to communicate by using his iPad as a speaking device. Anthony said that one of his favorite sayings is, 'I thought I was going to have to teach my son about the world, but as it turns out I have to teach the world about my son.'
Hi Anthony! Can you tell us a little bit about how you first got involved in the autism community?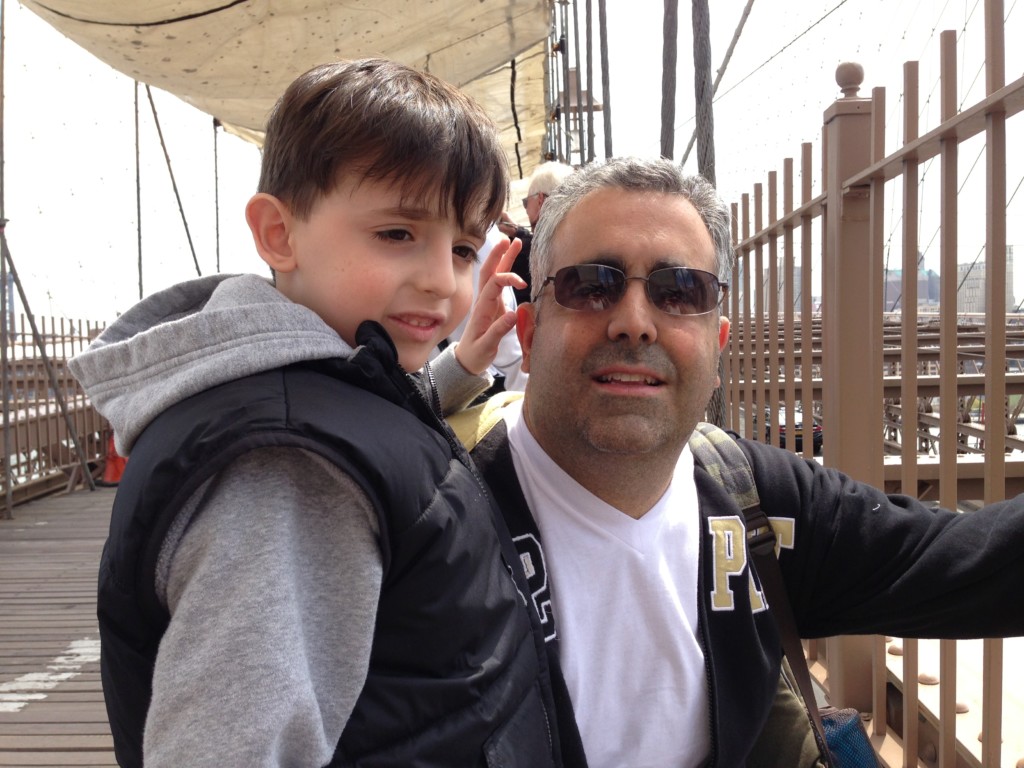 I first became involved in the autism community back in 2009, when Anthony Luca at the age of 2, was diagnosed with autism. The initial diagnosis was given to my family as Pervasive Developmental Disorder-Not Otherwise Specified (PDD-NOS) which typically meant that Anthony Luca had more of a mild case of autism. Up until 2013, PDD-NOS was a separate 'sub-type' of autism but has since been captured under the general autism spectrum disorder umbrella. As time went on, my family became very close with other families with diagnosis similar to ours that we had met at therapy sessions. Over time my family began to participate in walks with Autism Speaks, in hopes to raise funds for research, and equally as important, raise awareness.
You've done so much amazing work with DSNY! What we were dying to know though was how the idea of having your vehicles display Autism Speaks' Light It Up Blue posters came about?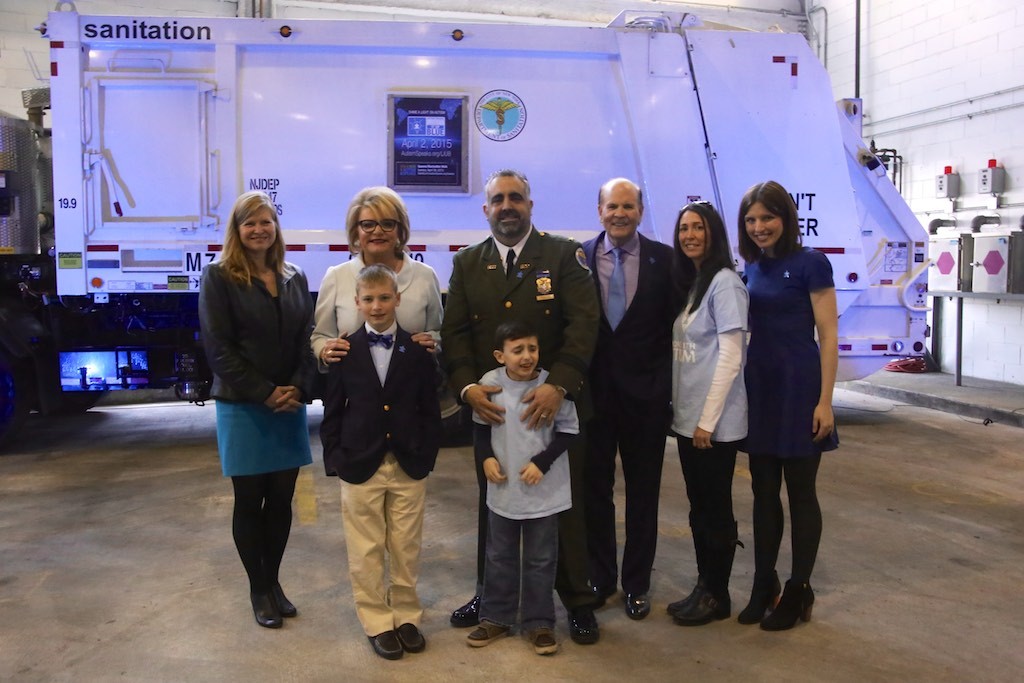 Back in 2013, just about when the DSNY partnership with Autism Speaks first came about, my coworkers and I were in a conversation with Suzanne and Bob Wright, the cofounders of Autism Speaks who were very interested in the new DSNY partnership. Suzanne Wright had mentioned to Steven Costas, DSNY's Director of the Bureau of Cleaning and Collection, that she would love to see a small puzzle piece decal on DSNY's fleet of 2500 trucks in honor of Autism Awareness Month. With that, Director Costas pursued and ultimately received the necessary approvals and offered to have Autism Speaks place posters on the sides of the entire fleet of 2500 trucks across all 5 boroughs of New York City for Autism Awareness Month. This April will be DSNY's 3rd consecutive year that we ran a Light It Up Blue truck poster campaign spreading awareness for the 70 million people around the world that are affected by autism.
How is your son doing today?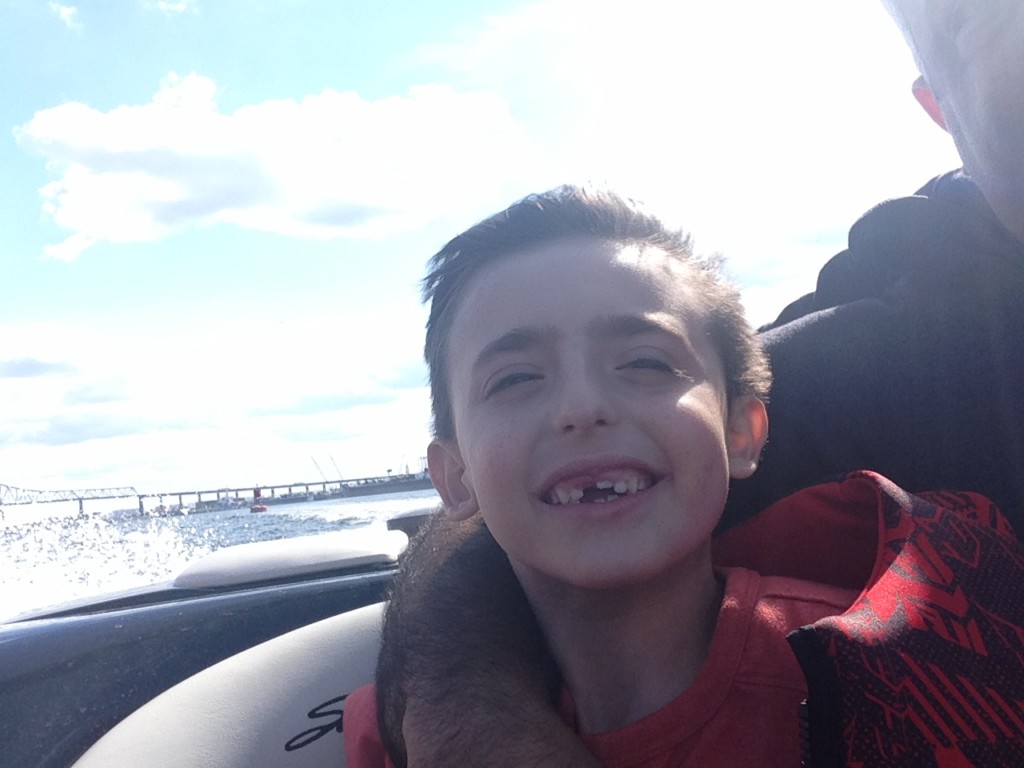 Anthony Luca is doing wonderful! He is a very hard worker both at school and throughout his daily after school therapy sessions. He absolutely adores his mother Dana and his 6 year old sister Bella Grace. I get a lot of love and attention too, but I am definitely in third place when his mom and sister are around. The truth is, I love to see his continuous show of affection for his family, even if I am in third place. Anthony Luca attends The Seton Foundation for Learning on Staten Island, NY where he gets tremendous support from the staff day after day. Aside from the amazing staff at school, Anthony Luca also adores Ashley, his 1:1 paraprofessional. Additionally, Anthony Luca has a phenomenal trio of in-home ABA therapists that continue to work very hard with him. He impresses us each and every day with the progress he makes.
You have quite the resume in participating in autism-related events in the past few years! Any favorites that you'd like to share about?
My son has participated in several amazing events, but I would have to say that having my son throw out the ceremonial first pitch at the NY Mets / Autism Awareness game at on May 1st, 2016 was the most memorable. Anthony Luca had over 100 family and friends at CitiField to cheer him on for his MLB debut.
What are some of your hopes and dreams for Anthony Luca in the future?
I would love to know that my son will someday have the ability to express himself, whether it is verbally or by using his iPad as a speaking device. There is absolutely no worse feeling than to see the frustration in Anthony Luca's eyes when something is bothering him and my wife or I cannot figure it out. Although he has come a very long way and is communicating decently via his speaking device, he still has a very long way to go.
For the autism dads out there what would be a main message you'd like to share with them based on your advocacy?
I always say that as a dad, I owe it to my son to be the voice that he does not have. In the 7+ years since Anthony Luca has been diagnosed with Autism I feel that spreading awareness is the most fulfilling. Since 2009, I actually see a difference for the better while we are out in public, whether it be the other patrons in a restaurant where Anthony Luca is making loud noises, or just a few less 'awkward stares' while in a grocery store, but I definitely think that the general public is more receptive to the special needs world and I attribute that progress to spreading awareness.
For those reading this how can they learn more about your terrific efforts in our community?
There is an article in NY City Lens that can be viewed here:
Anthony Luca's First Pitch @ CitiField can be viewed below…
Anything else you'd like to share with our readers?
Of all of the people that I have met and the countless stories that I have heard since I have been in the autism community, Kerry Magro's story is by far the most fascinating. Kerry said it best when he said that 'Autism doesn't come with an instruction guide. It comes with a family who will never give up'. I know that Anthony Luca is 100% confident that his family will absolutely never give up. We love him to pieces.
Editor's note: I've met many autism advocates in my years in our community but Anthony is truly one-of-a-kind. When I'm a dad one day I hope I can show the same unconditional love to my family that Anthony has for his. It's truly an honor to highlight his story for World Autism Month and for our readers I hope you enjoyed getting to know a little bit more about one of the rockstars in our community.