This guest post is by Pat Miller, co-founder and co-owner of Beloved Bath. Pat started this company to help her son Justin who is on the autism spectrum have a place to work as he reached adulthood. Pat is applying for our Supporting Small Businesses That Hire People With Disabilities Grant Opportunity ran by my nonprofit KFM Making A Difference. You can learn more about the grant opportunity here.
I hope you can support my nonprofit like I'm trying to support our community. I also produce educational videos to celebrate neurodiversity by spotlighting individuals impacted by a diagnosis. The below interview we produced is with Kelly who has autism and works for Beloved Bath. Learn more on how you can help our cause with a small donation (just asking for $3 today, equal to your daily cup of coffee) here.
Hello, my name is Pat Miller and I am co-founder and co-owner of Beloved Bath.  My business partner, Pam Kattouf, and I both have teenagers (19-years-old) with severe autism. As they got older, we became more and more concerned about what they would be able to do once they finished school and turned 21. We wanted our sons to have jobs that were meaningful to them and provided them with both a safe and welcoming environment where they could thrive.  We started Beloved Bath towards the end of 2016 so that our sons, Justin and John, would have such a place to work!
Beloved Bath is a high-quality bath product and candle small business whose mission is to provide meaningful employment to people with autism. We discovered that since the work is so task oriented and sensory in nature (mixing, step by step recipes, beautiful scents, etc.) it is an ideal vocation for individuals with disabilities especially autism. All steps can be broken down and taught and not all workers need to learn all aspects of the business.  Some workers truly enjoy packaging while others creating the products.  Some like shrink wrapping the products while other like pulling the orders and getting them ready to ship.  There is a job for each employee that is a perfect fit that adds value to the business and allows all employees to feel a sense of accomplishment.  Beloved Bath started as a labor of love for our sons and has become a place that individuals with autism can find meaningful work getting paid for a job well done.  Beloved Bath is a place where all individuals feel accepted and it is a place where they can create something beautiful.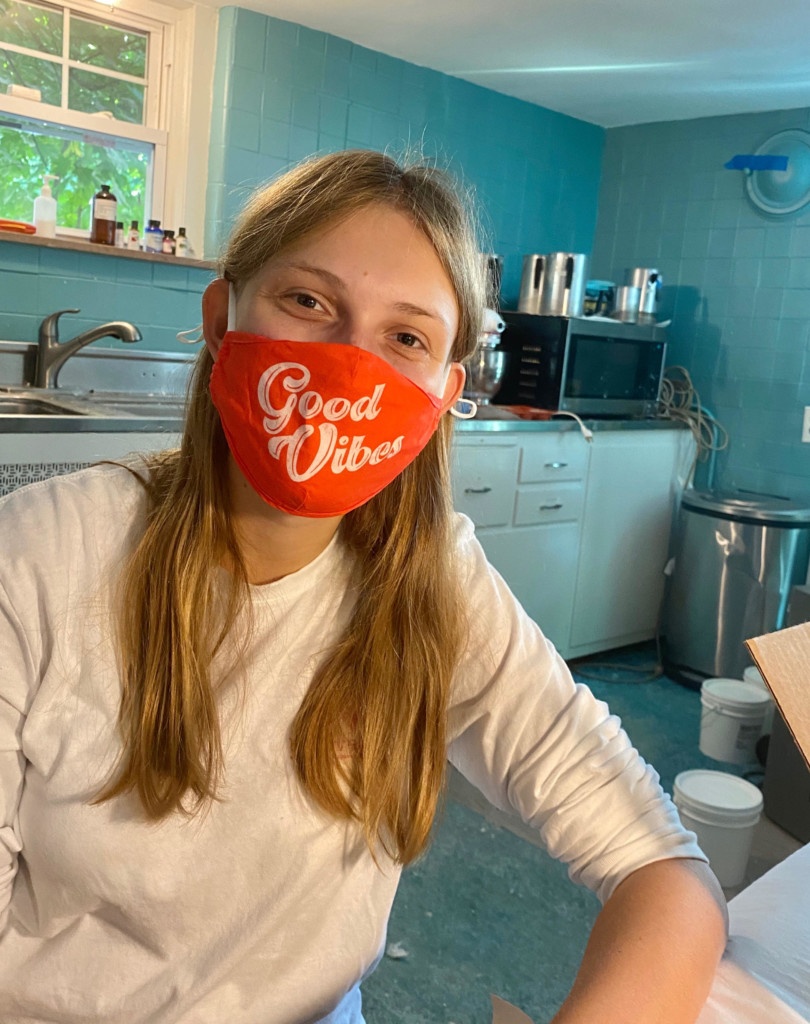 I have spent my entire life advocating for my son and finally feel some peace knowing if this business thrives, he will have a secure job. Research shows that 90% of individuals with autism are either unemployed or underemployed. We at Beloved Bath have seen firsthand the amount of talent that exists in this pool of employees. It is why it is our mission to give as many people we can a chance to find meaningful employment.  In the last 3 years we have grown, from $18,000 gross sales in 2017 to $45,000 in 2018.  In 2018 we had only one person in addition to our sons working for Beloved Bath and today we have 6 employees with autism in addition to our sons.  Our products can be seen in local stores in Maplewood, South Orange, Livingston and West Orange as well as on our online store- https://belovedbath.com/.
We have many success stories that we are so proud of recently we inspired a national TV commercial by Northwestern Mutual Financial Planning.  One of our employees who is 25 years old met her boyfriend (both on the spectrum) through Beloved Bath and they have been dating now for a year and half.  It has been so wonderful to see that our business also provides a place where workers can socialize and form friendships and relationships something which is often impossible to do once they finish school.  Many employees have told us that before working for us they felt isolated and alone and now they feel like they have another family! It brings us joy to be able to bring the adult community together in this way.
Beloved Bath currently employees six young adults with autism and two typically developing teenagers, all part time, in addition to ourselves and our sons.   We also work with two local autism schools that provide vocational training to students.  We continue to struggle with growing outside of our homes and continue to look for affordable space in the Essex County area so that we may employ more young adults in the autism community. Our accomplishments include being featured on the Today Show-Deal of the Day, Maplewood Matters, and for inspiring a Northwestern Mutual Financial Planning National TV commercial in 2020. It means so much for us personally and for Beloved Bath to have National Disability Employment Awareness Month to celebrate the importance of hiring people with disabilities.  Too often adults with autism in our community are overlooked and not given the opportunity to showcase their capacities and skills.  Too often, businesses will not take the risk or the extra time to train the autism workforce which is a huge mistake as they are often are the most reliable, honest , pleasant, and hardworking employees they take pride in their work and want to the best job possible.  Our goal is to be a model for other small businesses to hire from the talent pool within the Autism adult community and take our lead, they will not regret it!
Follow my journey on Facebook, my Facebook Fan Page, & Instagram!
Kerry Magro, a professional speaker and best-selling author who is also on the autism spectrum started the nonprofit KFM Making a Difference in 2011 to help students with autism receive scholarship aid to pursue a post-secondary education. 
Have Kerry, one of the only professionally accredited speakers on the spectrum in the country, speak at your next event by sending him an inquiry here. If you have a referral for someone who many want him to speak please reach out as well! Kerry speaks with schools, businesses, government agencies, colleges, nonprofit organizations, parent groups and other special events on topics ranging from employment, how to succeed in college with a learning disability, internal communication, living with autism, bullying prevention, social media best practices, innovation, presentation best practices and much more!