This guest post is by David Allen Ketron a young man on the autism spectrum who has been accepted into Fort Hays State University. David is applying for the Spring 2018 Making a Difference Autism Scholarship via the nonprofit KFM Making a Difference. You can read more about the organization and how to apply for our scholarship here. You can help our scholarship program continue to help these students by making a donation here (the majority of our scholarship program is ran through donors from our community such as yourself).
My name is David Allen Ketron and I have been diagnosed with Asperger's Syndrome since I was nine years old. Before I learned that I was autistic, I had gone through kindergarten and first grade like any other child. That is until I was having attention problems and having fits of laughter with no one understanding why I was laughing. I knew why I was laughing it is because I was replaying cartoons in my head. I hear noises twice as loudly then others throughout the years and I am reactive to heat this as well was a sign that my senses were sensitive. I was a very picky eater when I was young I always ate food differently than others. I ate my food in a different process like eating a pizza I would take it apart layer by layer but as of today I eat just like everyone else.
My interests in grade school were Math, Pokemon, and whenever I had free time I would daydream. During my grade school years, I was targeted by bullying, but later the ones that bullied me slowly became my friends in our high school years. I was given a paraeducator to assist me on any assignments that I had a hard time accomplishing, I had a para throughout both my grade school and high school years. When my parents told me about my autism everything in my worldview turned upside down, but their love and support helped get me back to earth.
Then at the end of grade school to the beginning of high school I slowly learned that my disability was my own form of a superpower. That is why I remember things that are in pop culture, other forms of trivia and quiz questions because they were important to me. When I work hard and study hard I finish both my assignments and tests with vigor. During high school I started reading books from the library, they were mostly fantasy stories, but they are the ones that got me to start reading more books and stories while also writing my own fantasy stories. Some people with autism sometimes have a one-track mind as an example is when you are so focused on a form of career or goal that you cannot think of other options in other careers that are best suited for you instead. In the middle of high school, I was like that, the goal that I tried to reach was being a videogame designer and nothing else. Later, when I was close to becoming a senior in high school I saw the requirements needed to achieve this career and the price to attending the colleges/universities which was shown by both my parents and teachers. Through all the options to pick a college I have chosen Hutchinson Community College to further my education.
After my graduation from Ashland High School I enrolled in Hutchinson Community College in which they have an excellent disabilities coordinator to help me take the first step in college life. The three years I have spent in Hutchinson have been great, and they were very supportive teachers who help you understand what you are doing in their class with the major you have selected. At graduation I have achieve the Associate of Arts in Media Production and further my education of this major through Fort Hays State University.
As of right now I am enrolled at Fort Hays State University it's big in size and loaded with people to help get you started on taking the next step in life. I am imaginative, I always love to think of new ideas, stories, and games. I like to have fun with these games and playing games with other people. I am kind and caring to others even if they are someone I don't know, or they are different in everyone's perspective it does not matter who or what you are no one should be treated poorly. I even care about animals such as cats and dogs they are just part of the family. I am sometimes an old soul who tries to give advice if anyone who is having a rough day. I am inquisitive about life always trying to figure out how things work and how they are used. I do not like conflict because seeing it makes me upset due to all the negative emotions that people give. When something new appears in my daily life I would be upset at first, but I slowly work my way around it until I have gotten used to it. I am even willing to try out something different such as eating new kinds of food to see how it taste. I am a person trying to think for his own future life is hard with or without Autism and you must work hard to get through it, but if you have friends, family, or anyone who cares about you it makes any day better.
I know now that in life no matter if you have autism or not life can be a confusing and dangerous place and taking the step into the unknown can be scary but no matter what makes you who you are as a person who makes a bleak today becomes a shining tomorrow. For me, I say that my autism is not a disability but a tool that can help shape not just my future but the future of others.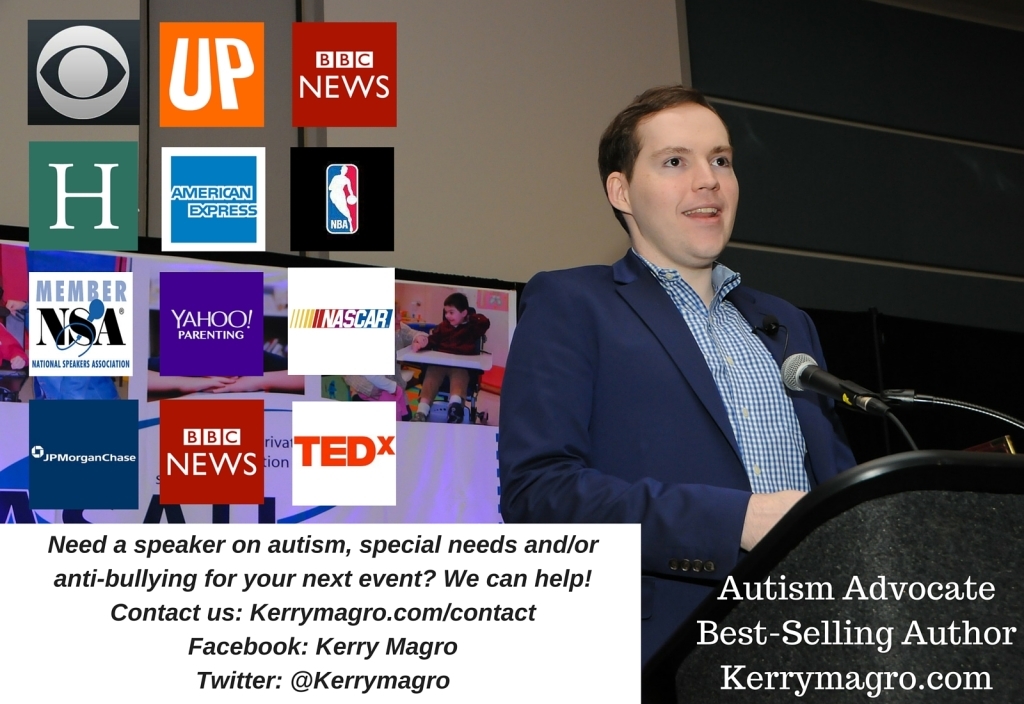 Kerry Magro, a professional speaker and best-selling author who is also on the autism spectrum started the nonprofit KFM Making a Difference in 2011 to help students with autism receive scholarship aid to pursue a post-secondary education. Help us continue to help students with autism go to college by making a tax-deductible donation to our nonprofit here. Also, consider having Kerry, one of the only professionally accredited speakers on the spectrum in the country, speak at your next event by contacting him here.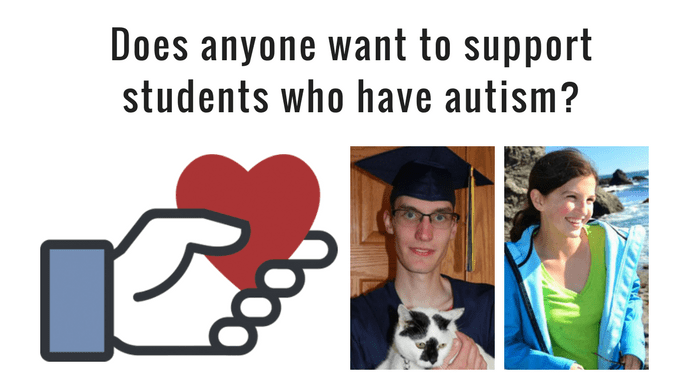 We'd also appreciate if you could start a Facebook Fundraiser to support our nonprofit's scholarship fund! You can learn more about how you can do just that here.