This guest post is by Walter Foster Michaelis, a young man on the autism spectrum who has been accepted by Oglethorpe University for college! Walter is applying for the Spring 2020 Making a Difference Autism Scholarship via the nonprofit KFM Making a Difference started by me, Kerry Magro. I was nonverbal till 2.5 and diagnosed with autism at 4 and you can read more about my organization and how to apply for my scholarship here. I'm one guy trying to make a big difference for people with autism via this program. With that I hope you will take a minute to consider making a donation to our scholarship fund here so we can keep it running moving forward (the majority of our scholarship program is ran through donors from our community such as yourself so no matter if you could donate anything, whether it be $5 anywhere up to $5,000 it would be making a difference!).
"Do the things you have to do before the things you want to do." I've heard those words so many times they make me want to scream.
I was diagnosed with Asperger's syndrome when I was 2 years old. This means that I have issues with communication and socialization. I was also diagnosed with ADHD, which makes it especially hard to focus and sit still. In school, this meant that sometimes I had trouble paying attention in class.
When I was in elementary school, I wanted to play Mario Kart all the time. My Mom told me that I should join Boy Scouts and try to make friends. She explained the importance of keeping on top of my homework to be a good student. She also taught me how to sort my laundry and take out the trash every week. I learned that being responsible for myself was key to my independence.
At the age of 11, I turned my passion of history into an amazing achievement. I won the National History Bee as the first ever Elementary School Division national champion. It was a lot of hard work, but I felt very proud that my interest and commitment to reading non-fiction turned into a tremendous award.
When I was in middle school, I felt overwhelmed at first because it was a big step up from elementary school. In many cases, my grades began to slip as the classes which I would pass with high grades before became a lot harder. Understanding my teachers' wishes, communication styles, and expectations was particularly challenging. I also began to feel stressed since I would have a lot more homework than normal. I also began to feel jealous of other students who seemingly always got perfect scores on their tests, no matter how hard the material was. Despite all this, my parents again gave me the same words of wisdom which they always have. I was able to finish my middle school years with good grades again by trying my best to stay organized and on top of my school assignments. Surprisingly, I still found some time to play my favorite football video game and read my favorite books about sports, geography and history.
During my freshman year in high school, it felt like my grades started to slip. As much work as middle school was, high school was even more stressful. My parents told me that I had to choose one after-school activity to be involved with my school. Since I already had an interest in history, I decided to try out for the quiz bowl team. Even though I had trouble adjusting to this change in my schedule, I eventually embraced my new normal and have enjoyed competing with students from all over the country. I have established relationships with my teammates, and we travel throughout the state and country competing against some of the top talent from other high schools. Even though I would rather play video games or daydream in class, my parents' reminders have kept me pushing forward to become a better person. In the Fall of my Junior year of high school, after a lot of hard work and dedication, I earned the title of Eagle Scout.
All of these years, I have heard my Mom tell me the same advice over and over again. "Do the things you have to do before the things you want to do."
Now I'm graduating high school and heading off to college to pursue my degree in history. Perhaps I'll study abroad for a semester. Maybe I'll get a cool internship somewhere. Maybe I might get a master's degree in creative writing, city planning, or political science.
I'll fit in time for travel, reading my cherished non-fiction books, playing Civilization, and watching movies after I study for upcoming tests, follow-up on emails, work hard in my part-time job at the grocery store, and put my laundry away.
Maybe Mom was right the whole time.
Follow Kerry's journey on Facebook, his Facebook Fan Page, & Instagram!
Kerry Magro, a professional speaker and best-selling author who is also on the autism spectrum started the nonprofit KFM Making a Difference in 2011 to help students with autism receive scholarship aid to pursue a post-secondary education. Help us continue to help students with autism go to college by making a tax-deductible donation to our nonprofit here.
Also, consider having Kerry, one of the only professionally accredited speakers on the spectrum in the country, speak at your next event by sending him an inquiry here. If you have a referral for someone who many want him to speak please reach out as well! Kerry speaks with schools, businesses, government agencies, colleges, nonprofit organizations, parent groups and other special events on topics ranging from employment, how to succeed in college with a learning disability, internal communication, living with autism, bullying prevention, social media best practices, innovation, presentation best practices and much more!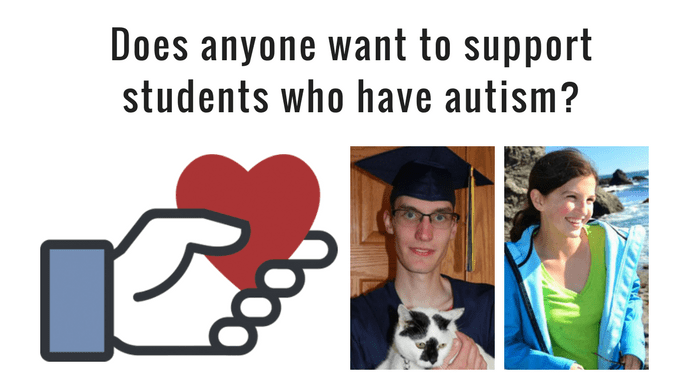 We'd also appreciate if you could take a minute to create a Facebook Fundraiser to support our nonprofit's scholarship fund! You can learn more about how you can do just that here.